SKOCH BFSI Award
Excellence in BFSI
18th November 2023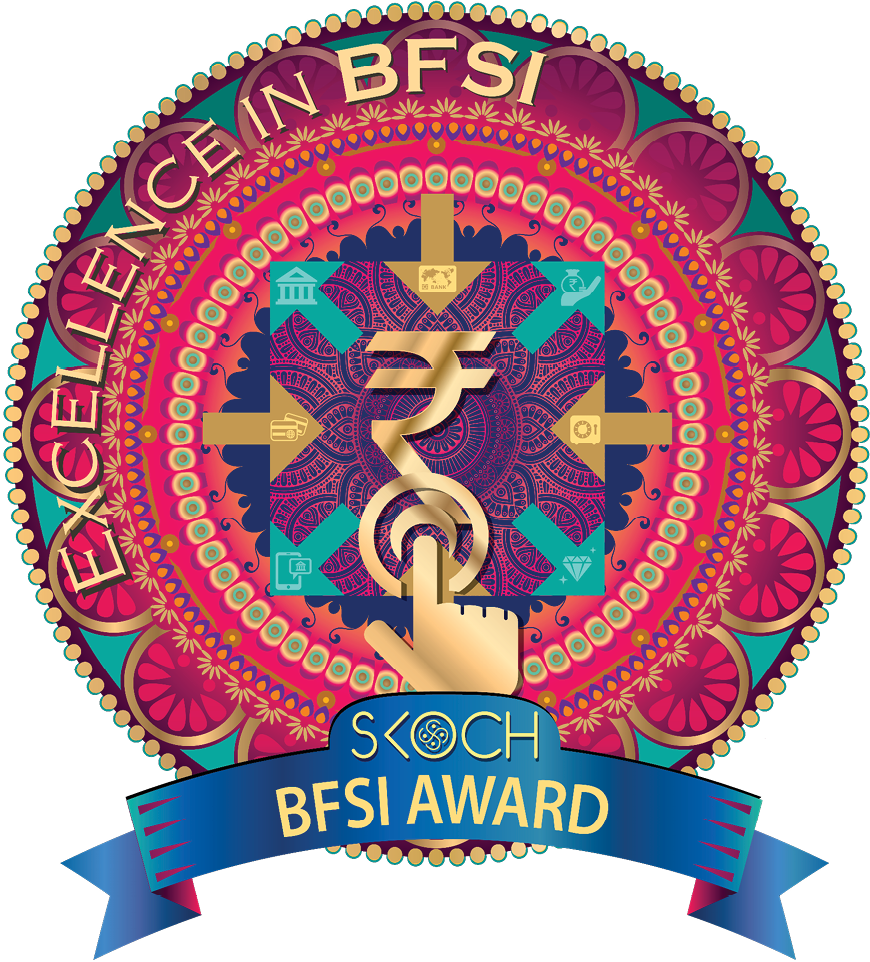 India has witnessed an emergence of a techno-centric financial sector. BFSI in India is innovating for the Digital Consumer. Even in a highly commoditised sector, the key lies in creating a differentiated brand for the digital consumer by leveraging technology to deliver superior customer experience and innovative products profitably, all within the changing regulatory environment. Industry estimates of investments in technology indicate a move in this direction.
SKOCH Group, since inception in 1997, has been at the nerve centre of the banking, financial services and insurance industry.
SKOCH Group has had a ringside view of all significant developments within the BFSI sector since 2003 and has actively contributed to policy formulation through various policy recommendations, several of which have been implemented.
SKOCH has organised 92 industry-leading national conferences, which have witnessed the participation of regulators, captains of industry, policymakers, senior bureaucratic and political leadership, media, and technocracy to drive deliberations on issues of vital importance for India's growth story.
The first SKOCH Financial Technologies Summit in 2004 focussed on using telecom for banking and financial services with an exhaustive showcase of the capability profiles of IT solution majors for the BFSI sector. Subsequent editions focussed on using ICT as a service differentiator and a core enabler in the Indian financial industry.
From arguing for the move towards a profitable Banking Correspondent model to seeing the rise of core banking to core insurance, to the establishment of technology standards for the financial sector interoperability of financial and government applications, witnessing the rise of differentiated banking to the issuance of new banking licenses.
From exploring the role of no-frills accounts in financial deepening in the early 2000s to witnessing the Jan Dhan Yojana and the JAM trinity become a reality.
From building data centres to the technology that powers high speed trading in stock exchanges to an increasing focus on investor education and investor protection.
We have had a ringside view of these developments over the past 25 years. This body of work allows SKOCH to be uniquely positioned to benchmark excellence and recognise institutions and organisations working and delivering exemplary performance within the BFSI sector.
The SKOCH BFSI Award aims to identify exceptional performers, achievers and innovators in banking, financial services and insurance.
How to

apply for|particpate in|win

SKOCH BFSI Award?
Last Date: 21st September 2023
Conference Delegate Fee (4 Delegates): Regular Fee - Rs 40,000 + GST@18%
SKOCH Awardees*
* These are some of the past awardees. Full list can be viewed at Past SKOCH Awards page.
About SKOCH Group
SKOCH Group is India's leading think tank dealing with socio-economic issues with a focus on inclusive growth since 1997. SKOCH Group is able to bring an Indian felt-needs context to strategies and engages with fortune-500 companies, state owned enterprises, government to SMEs and community-based organisations with equal ease.
Phone:
0124-4777444
Email:
info@skoch.in
Our Mission
The repertoire of services include field interventions, consultancy, research reports, impact assesments, policy briefs, books, journals, workshops and conferences. SKOCH Group has instituted India's highest independent civilian honours in the field of governance, finance, technology, economics and social sector. The group companies include a consulting wing, SKOCH Consultancy Services Private Limited; a media wing, SKOCH Media; and a charitable foundation, SKOCH Development Foundation.
Testimonials
Inclusion projects the inception, implementation and success of Ayushman Bharat. Heartly thank you for the efforts & the positive approach.
Excellent highlighting of the immense work done under Ayushman Bharat. Brilliant.
India has prevailed in the past and shall prevail in future as the craving nation for growth. I thank you for being considerate. Its overall development will be gaining momentum.
Sameer is a very 'resourceful' scholar. His 'resource' is his experience, knowledge and deep insights.
Sameer Kochhar is a blunt man. When such a person writes, it makes a valuable addition to any library.
Your book is an outstanding contribution towards understanding the process of economic reforms.
I appreciate your thoughtfulness and am grateful for your work studying India's government and economy.
He is bold enough to express his opinion on the flaws.
His works are a treasure of information.
Sameer's works provide a critical but constructive review of various steps taken.